Guest Post by Steven T. Zech and Joshua Eastin for Denver Dialogues
Contemporary security challenges in the Philippines
International reporting emphasizes two key security challenges in the Philippines: First, President Rodrigo Duterte's drug war has claimed thousands of lives since he took office in 2016. And second, ISIS-affiliated militants recently attacked and seized much of the city of Marawi, leading to the declaration of martial law in Mindanao and a massive humanitarian crisis. While these issues are certainly important, many provincial cities and villages face their own more immediate security threats. We recently visited the Eastern Visayas in June and July of 2017 to assess other regional challenges and to evaluate strategies for local security provision. We visited more than a dozen communities on Samar and Leyte islands and the people we spoke with described complex security environments where political elites maintain private armies ("goons") to intimidate and coerce, thieves ("hold-uppers") prey upon the population with relative impunity, and the Communist Party of the Philippines—New People's Army (NPA) assassinates dissenters and demands "revolutionary taxes" from local residents, politicians, and businesses.
The NPA remains the principal threat in most sites we visited, a somewhat surprising finding considering the limited international attention given to an insurgency that has been ongoing for nearly half a century. The Armed Forces of the Philippines (AFP) serves as the primary counterinsurgency force. However, our research reveals that the AFP depends on auxiliary paramilitary forces to a startling degree to maintain order and to combat the NPA. Accordingly, these community-based militias—Civilian Armed Forces Geographical Units (CAFGU)—serve a key, yet often thankless role in local security provision and counterinsurgency efforts. During our fieldwork we conducted surveys and interviews with CAFGU participants to ascertain the primary motivations for individual participation and to identify the difficulties they face.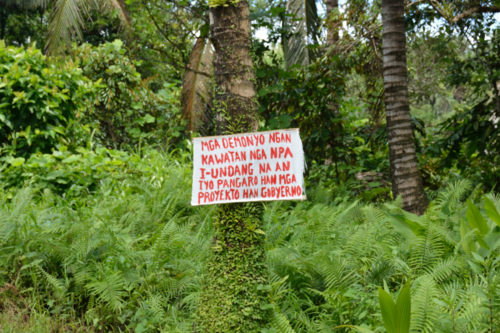 CAFGU and local security provision
Considered "volunteers" by the Philippine government, CAFGU are a crucial auxiliary fighting force for the AFP. In recent data collection efforts they are classified as semi-official pro-government militias, as they fall under direct military control. However, the lines between militias, paramilitaries, and self-defense forces are often blurred. In the Philippines, CAFGU are a contemporary iteration of prior organizations like the Civilian Home Defense Forces of the 1970's and 1980's, as well as the Alsa Masa movement where vigilante squads received weapons from the military to confront insurgents and criminals.
The AFP recruits CAFGU locally for their ties to the community and insider knowledge of the people and terrain. Participants provide crucial intelligence to military commanders who are routinely rotated in and out of local military encampments from other regions. CAFGU perform many of the same duties as AFP soldiers, including: routine patrols, extended military operations, force and community protection, camp maintenance, and assistance with humanitarian relief. Moreover, in every site we observed, CAFGU vastly outnumber AFP at a ratio of about ten to one in a typical camp. When we asked one participant whether the military could defeat the NPA without CAFGU, he laughed and stated matter-of-factly, "When the NPA attack they are 200. There are only three soldiers here, so without the thirty CAFGU they would be easily overrun." It is difficult to overstate the CAFGU's importance.
Joining the counterinsurgency—motivations and challenges
One of our key research objectives was to assess individual motivations to join the CAFGU. We evaluated a range of possible factors—grievances, identity-related factors, social pressures, and adventure, among others—but the most powerful related to economics. Based on 130 surveys and personal interviews with over sixty CAFGU participants, it is apparent that CAFGU face severe hardship, often beyond that experienced by the broader community. Their need for a steady income to provide for their families, coupled with limited local employment opportunities, compels these individuals to accept significant risks to their own personal safety, with virtually no prospects for advancement.
This situation gives the AFP leverage over CAFGU and enables the Philippine government to pay what participants describe as a pittance. Their "allowance" of PhP 4,500 per month (less than $100) is not a living wage and is insufficient to feed their families. The requirement to live in camp twenty days per month—despite their "volunteer" status—prevents CAFGU from pursuing other regular work and most are left scrambling for resources during their ten days of homestay each month. Economic vulnerability, coupled with a heightened risk of NPA assassination for those who quit, facilitates a complex and persistent system of exploitation. In addition to the low pay, CAFGU regularly recounted stories of opportunistic lending practices by soldiers and their relatives, convoluted schemes where commanding officers steal portions of new recruits' allowances and retirees' benefits, and less commonly, physical, verbal, and sexual abuse. This demoralizing situation is not lost on the CAFGU and it is not lost on their communities either. Residents and CAFGU alike used words like "bait" to describe the CAFGU's role. One participant likened their role to "dogs laying at the feet of their military master." Their antiquated rifles and threadbare, ill-fitting uniforms (as compared to AFP soldiers) only underscore this perception. What is lost in this view, however, is that without the CAFGU, the AFP would be ill equipped to provide community security and incapable of waging effective counterinsurgency.
Local politicians sometimes offer CAFGU additional resources such as a 25kg sack of rice, though this was not the norm. Far more often, politicians directly support NPA insurgents by providing them with money, food, and weaponry in order to purchase the right to "campaign" (buy votes) in NPA-controlled territory. Many politicians are directly undermining efforts at effective counterinsurgency through tangible insurgent support. A few AFP commanders were also reported to have initiated back-room deals with the NPA in response, so the two forces could avoid crossing paths while on patrol. The overall effect has been to bolster the NPA's resilience despite decades of counterinsurgency, to further diminish morale among AFP and CAFGU, and to add to the public perception that CAFGU are simply pawns caught in some larger game of cat and mouse. In this context, we observed a paradox of lower violence in some of the most contested regions because the different armed actors seem to have arrived at a perverse equilibrium of payouts and avoidance.
The future of CAFGU
CAFGU face an uncertain future. For years, some politicians, commentators, and human rights groups have called on the government to disband the CAFGU over alleged human rights abuses. In our view, these calls are shortsighted and often based on reports of incidents in particular regions that are not necessarily indicative of a country-wide problem. While human rights violations are serious, and should be addressed, a more appropriate mechanism for doing so would be to implement structural changes to the program that ensure better training and oversight. Furthermore, the Philippine government should guarantee CAFGU a living wage, provide participants with a contract outlining compensation, benefits, and obligations, and provide a clear path for joining the AFP for those who qualify. These steps would reduce enticements to moonlight as hired muscle for political rivals and reduce violence against civilians. At minimum, important first steps should include the Philippine government providing the CAFGU with uniforms and weapons of a standard consistent with the AFP, publically acknowledging the CAFGU's important role in providing local security, and renouncing the fiction that they are simply local volunteers defending their communities in their spare time. These steps will go a long way in improving the lives of CAFGU participants and their families and boost morale as they face many ongoing challenges.
Steven T. Zech (Ph.D. 2016, University of Washington) is a Lecturer (Assistant Professor) in the Department of Politics and International Relations at Monash University. He was previously a Postdoctoral Research Fellow at the Josef Korbel School of International Studies, University of Denver where he conducted research for projects on "nonviolent action in violent settings." His research focuses on how communities respond to political violence and terrorism at the local level and he has conducted extensive fieldwork on self-defense forces in Peru. His work has appeared in journals such as International Studies Review, Terrorism and Political Violence, Defense & Security Analysis, and the Journal of Terrorism Research.
Joshua Eastin (Ph.D. 2013, University of Washington) is Assistant Professor of Political Science at Portland State University. His research addresses, among other things, issues related to environmental security and the dynamics of armed intrastate conflict. He has conducted extensive fieldwork in the Philippines, where he also served as a research fellow at the University of the Philippines-Diliman. His work has appeared in journals such as International Interactions, International Studies Quarterly, Political Geography, Terrorism and Political Violence, World Politics, and World Development.