Guest post by Juan Masullo and Julia Zulver
In Colombia's lush Catatumbo region, nestled against the Venezuelan border, there is a village where, despite civil war violence, a migration crisis, and now, a global pandemic, things are calm and quiet. The village is: Pacelli.
Years ago, Pacelli residents created their own governing body and they continue to live by their own rules today: armed groups are not allowed within the town limits, the inflow of migrants from Venezuela is closely monitored and regulated, and the community set up its own public health procedures to enforce a quarantine.
Around the world, countries have enacted strict lockdown policies to prevent the spread of COVID-19. In some countries, however, these quarantines take place in a context where non-state armed groups continue to exert social and territorial control. From criminal groups in Brazilian favelas, narcotraffickers in Mexico, and rebels in Afghanistan, these groups are providing humanitarian aid to local populations and enforcing lockdowns.
In Catatumbo, the ELN, EPL, FARC dissidents, and paramilitary successors are also ramping up efforts for territorial control. Catatumbo's location along the border makes it highly valuable to armed groups who, in recent months, have been clashing to gain control of illicit crops and transportation routes.
In this context, Pacelli provides an example of how strong community organization can quickly be repurposed to face the challenges of COVID-19.
Pacelli has a unique history. Located in the heart of one of the country's main coca cultivation areas, ensuring control over this territory has been of great strategic interest for armed groups operating in the area.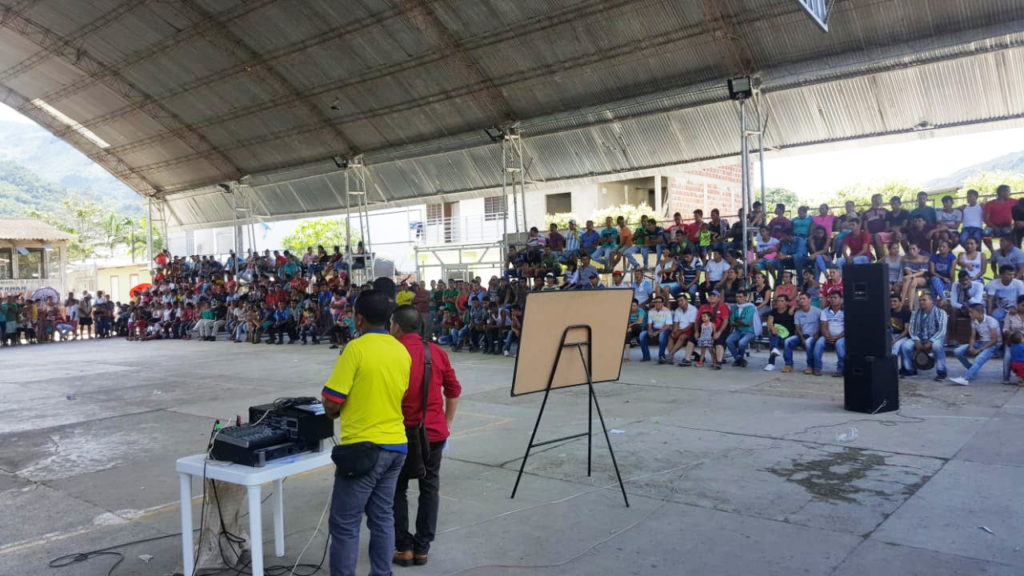 After years of gruelling war, community leaders in Pacelli understood that to foster sustainable development and take back control over their own affairs, they had to prevent armed groups from exerting direct influence in their community. Beginning in 2012, they began to experiment with a different model of community organizing and self-governance that, controversially, eventually included declaring their village off-limits to all armed groups in 2016, including the Colombian armed forces.
Since then, when armed groups have tried to enter the town, residents have closed their shops, shut themselves inside, and raised white flags as a sign of protest. On one of these occasions, in July 2016, they explicitly told the insurgents during a community meeting: "We do not agree with [you being here]. This doesn't mean that we are anti-guerrilla… Pacelli is a beautiful and cohesive town and there is room for everybody. But united, and without uniforms and guns."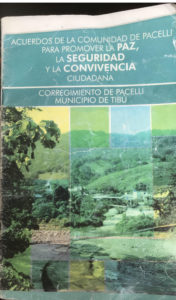 They developed a plan to voluntarily and gradually move from coca cultivation to legal crops, and established a set of norms that regulated daily behavior: from shops' opening hours, to a highway code, to outlawing brothels. Over 95 percent of residents agreed to abide by these norms codified in a Manual de Convivencia (Coexistence Manual). They also established a body to monitor and enforce these rules, the Comité de Veeduria (the Oversight Committee).
A local political leader explained: "The community is autonomous; we are the ones who are in this territory… If you show signs of weakness [in front of armed groups], obviously, anybody can enter. But if you stay strong in your position and you are able to justify it… they will respect you."
In later years, their experience in communal governance allowed the Pacelli community to effectively respond to the migration crisis. The Oversight Committee established norms for regulating the entry and settlement of Venezuelans: only those who are invited by a resident of the community can stay in the village.
Today Pacelli residents face a new, unprecedented challenge: an impending pandemic.
When news of the pandemic began to spread, the residents of Catatumbo knew they were at high risk. This part of the country—like much of rural Colombia—features chronic state and institutional weakness. With a lack of equipped hospitals and doctors, and a lack of decent road infrastructure, the arrival of the virus would be devastating.
Feeling that the government was not taking the necessary preventive measures, Pacelli residents decided to take matters into their own hands. In the same way that they closed their doors to armed groups, they decided to enforce their own lockdown to prevent the entry of the virus.
The same Control Post once used to prevent armed groups from entering the village, and then to monitor the entrance of migrants, is now being used for public health measures. The Committee doesn't allow any external visitors, and those who have visited the outside world—like truck drivers—are required to sign a document agreeing to quarantine inside their houses upon re-entering town.
Communities in the region are concerned about the health and economic impact of COVID-19. Controversially, the military has intensified its efforts to forcibly eradicate coca crops, breaching procedures agreed in a peace deal with the FARC. Residents have mobilized to ask that these efforts be suspended during the lockdown, as for many, coca cultivation is their only source of income and there is concern that the people doing the eradication might spread the virus.
Despite regional concerns, coca eradication and army incursions hasn't been a central problem for Pacelli. Since their system of community governance does not allow the army in the village, they have taken care of their eradication themselves. For example, they have made clear commitments to voluntarily and gradually substitute coca for other crops, forbidden deforestation to prevent the expansion of existing cultivation areas, and have authorized a limited number of villagers to sell coca leaves grown in their village.
Around the region, there are serious concerns that armed groups will take advantage of the national lockdown to continue to assassinate social leaders, fearing they will become easy targets under lockdown. INDEPAZ has registered the murder of 21 social leaders since the virus hit Colombia, including one in Catatumbo on May 4. Yet, violence has not come to Pacelli.
Armed groups could also use the pandemic to increase their legitimacy, by, for example, offering aid and food to residents, as the ELN has begun to do over the last few weeks. Pacelli founding leaders don't seem overly worried about this prospect, as it should be clear that this aid should not make it into their community. But in April, a new leadership was elected and maintaining a strong position will be no easy task.
Why were Pacelli residents able to respond so quickly to a new challenge like the COVID-19 pandemic? Preliminary evidence indicates that Pacelli was able to tap into their capacity for collective action developed over many years as it has responded to the threat of civil war violence. This suggests a fungibility or "translatability" of the "resister's toolkit".
While in days gone by, the community committee shut its doors to all armed actors, today it is shutting itself off from a potentially devastating illness.
What makes it possible for a town like this to resist armed groups that have devastatingly destroyed other towns like it all over the country, including some of its neighbors in Catatumbo, only a few kilometers away? What enables organized communities to repurpose their collective action capacity to face completely different threats?
These are questions that require further research. Yet, what we know so far suggests that communities with legitimate pre-war local institutions, such as strong communal boards, and with past experiences of collective action, are more likely to organize themselves to respond to armed groups during armed conflict. This capacity has survived over time and repurposed itself to respond to new crises that substantially differ from those that prompted their creation in the first place—even COVID-19.
Juan Masullo is a Lecturer in the Department of Politics and International Relations at the University of Oxford. Julia Zulver is a Marie Skłodowska-Curie Research Fellow at the Instituto de Investigaciones Jurídicas at UNAM, Mexico and the Oxford School of Global and Area Studies at Oxford. Both are Research Associates in the CONPEACE project at Oxford's Changing Character of War Centre.